 Driven by imagination and innovation, Embrace celebrates the art of detail in both its service and style. Its enviable setting offers an uninterrupted view encompassing the green mountains, Caribbean sea, surrounding islands and Gustavia's yacht-filled harbor.

Within its expansive spaces, nature's beauty is invited in with airy architecture and sleek design and complemented by works from some of the art world's most unconventional thinkers.
Inspiration
After more than a decade of traveling throughout the Caribbean and experiencing its most exclusive hotels and villas, the owners collaborated with architects and artisans from around the world to create a luxury villa that reflects their respect for nature, passion for design and love for St. Barths.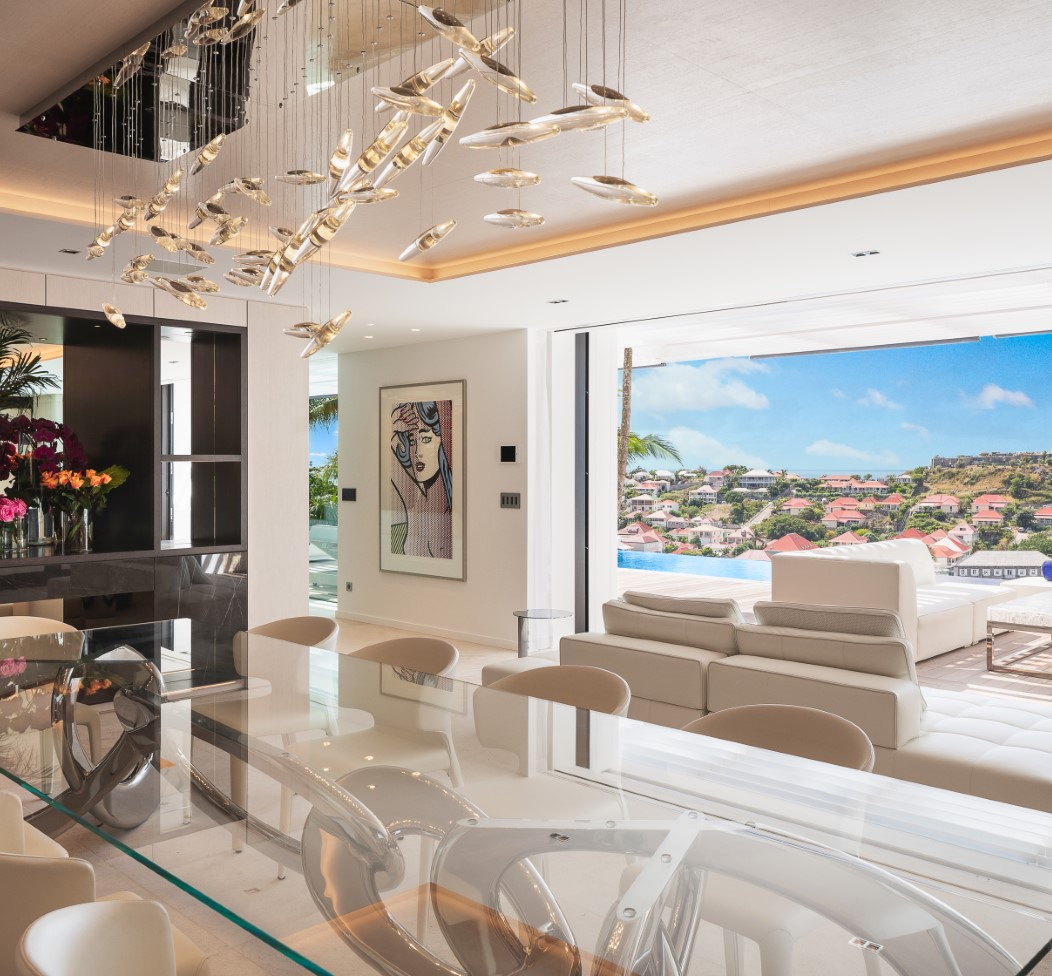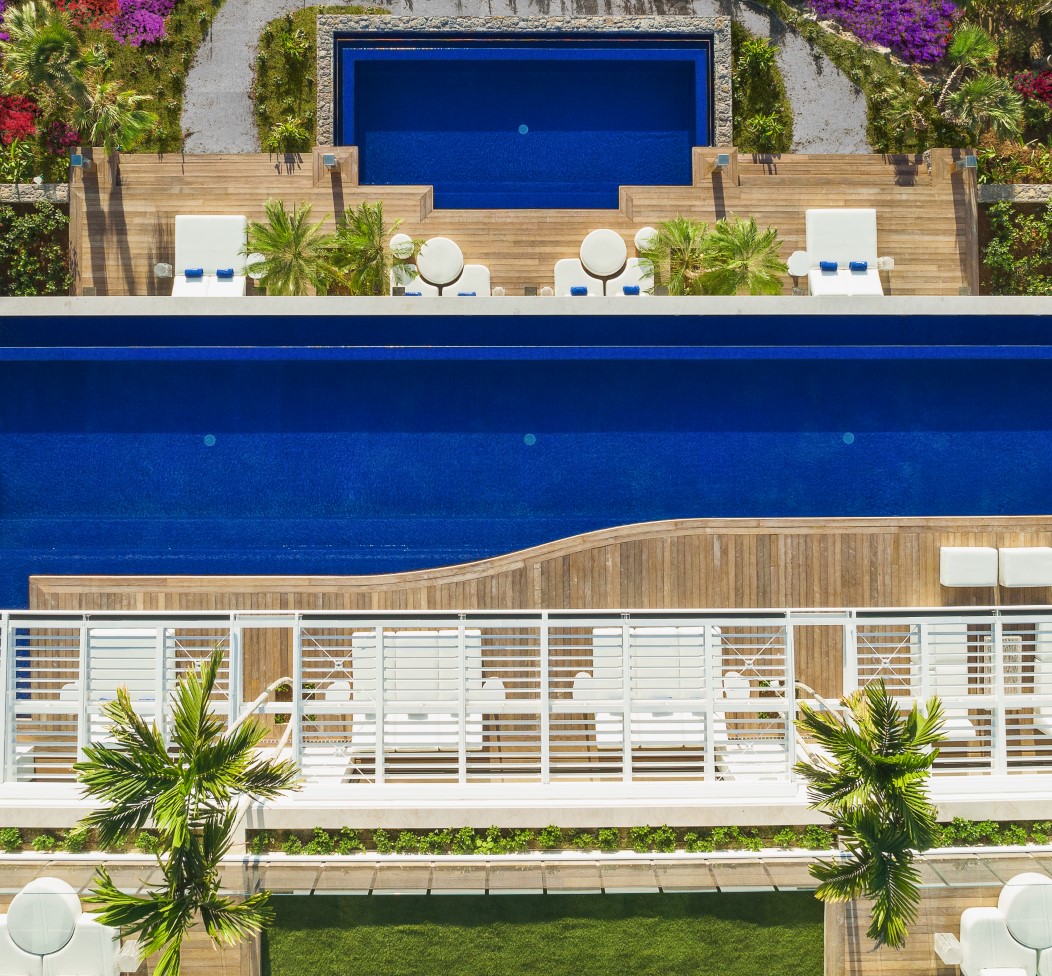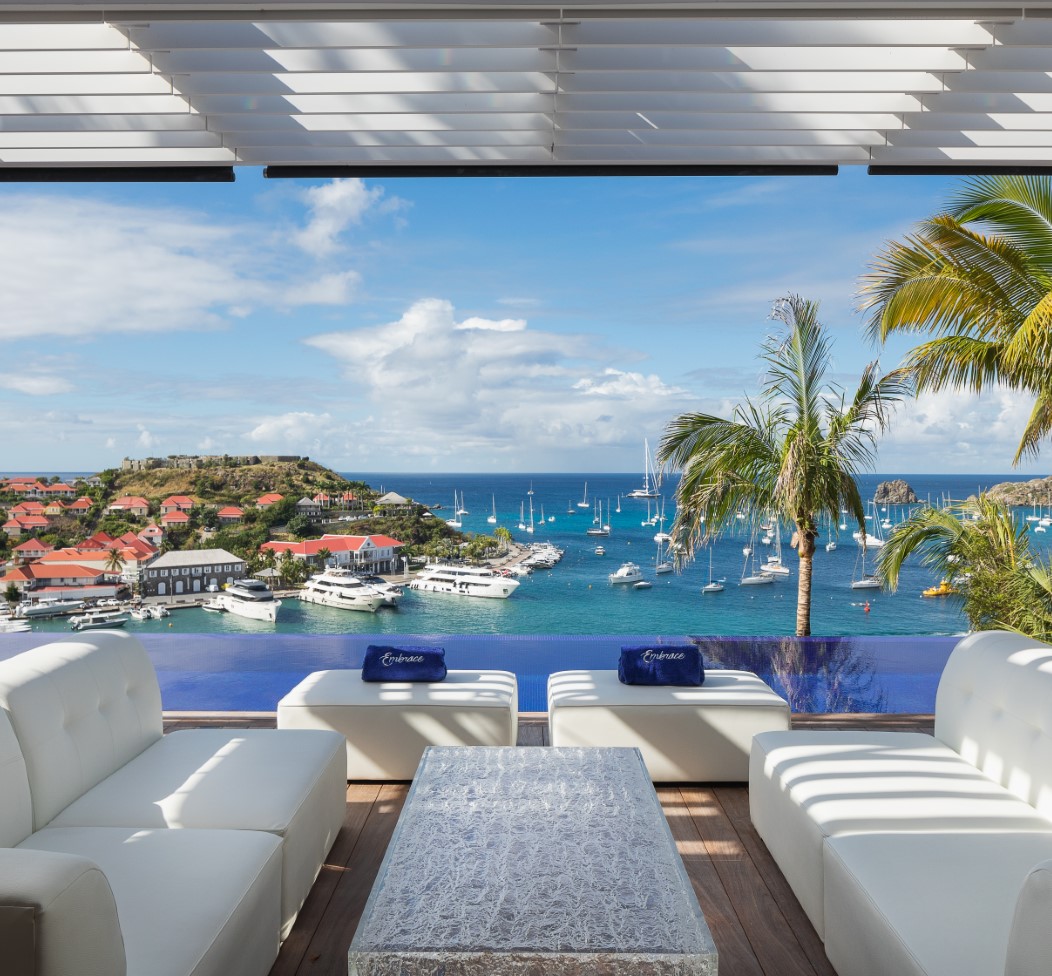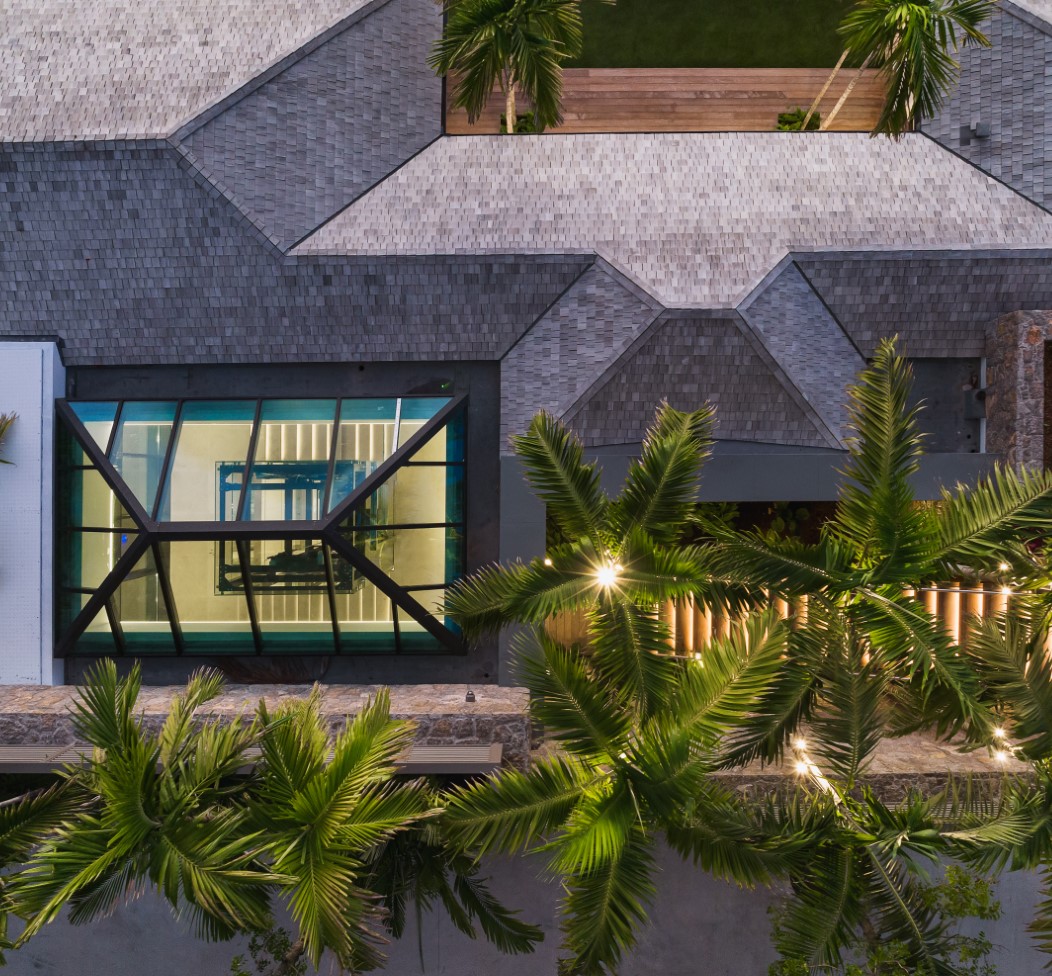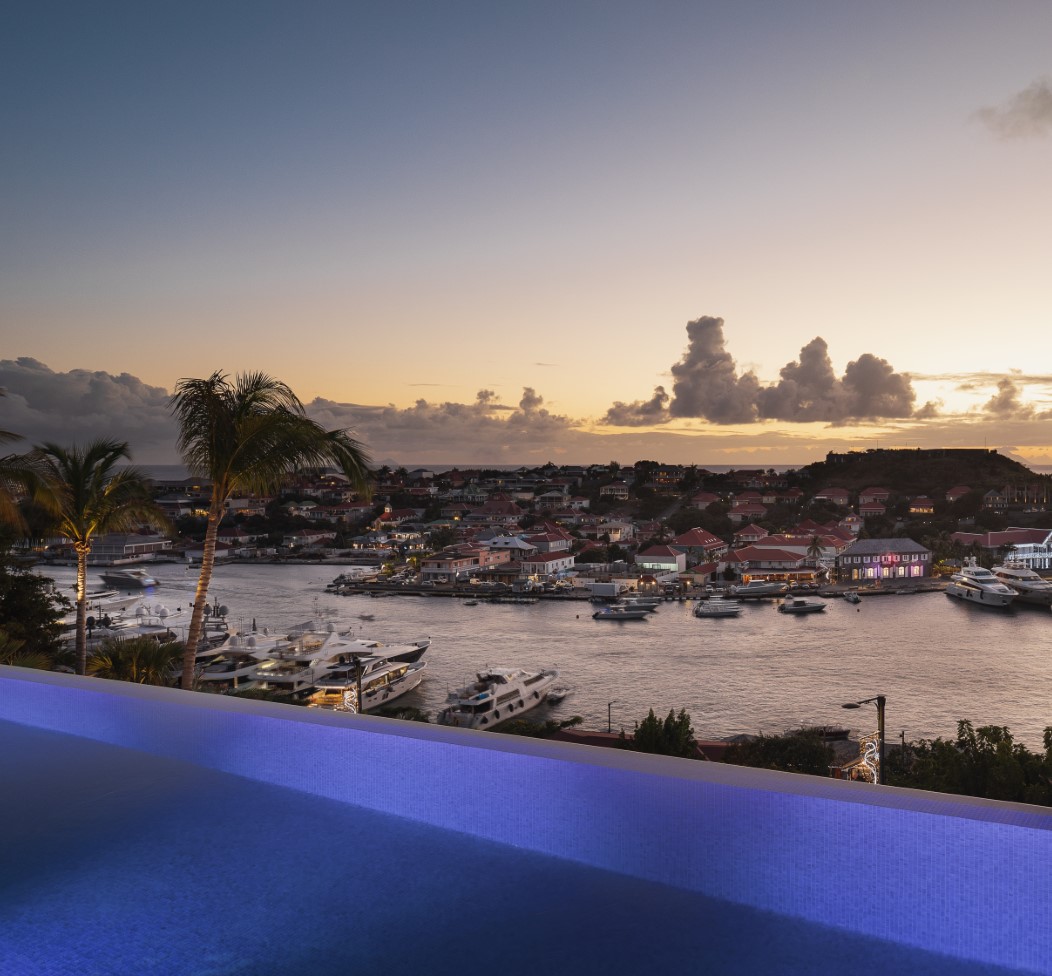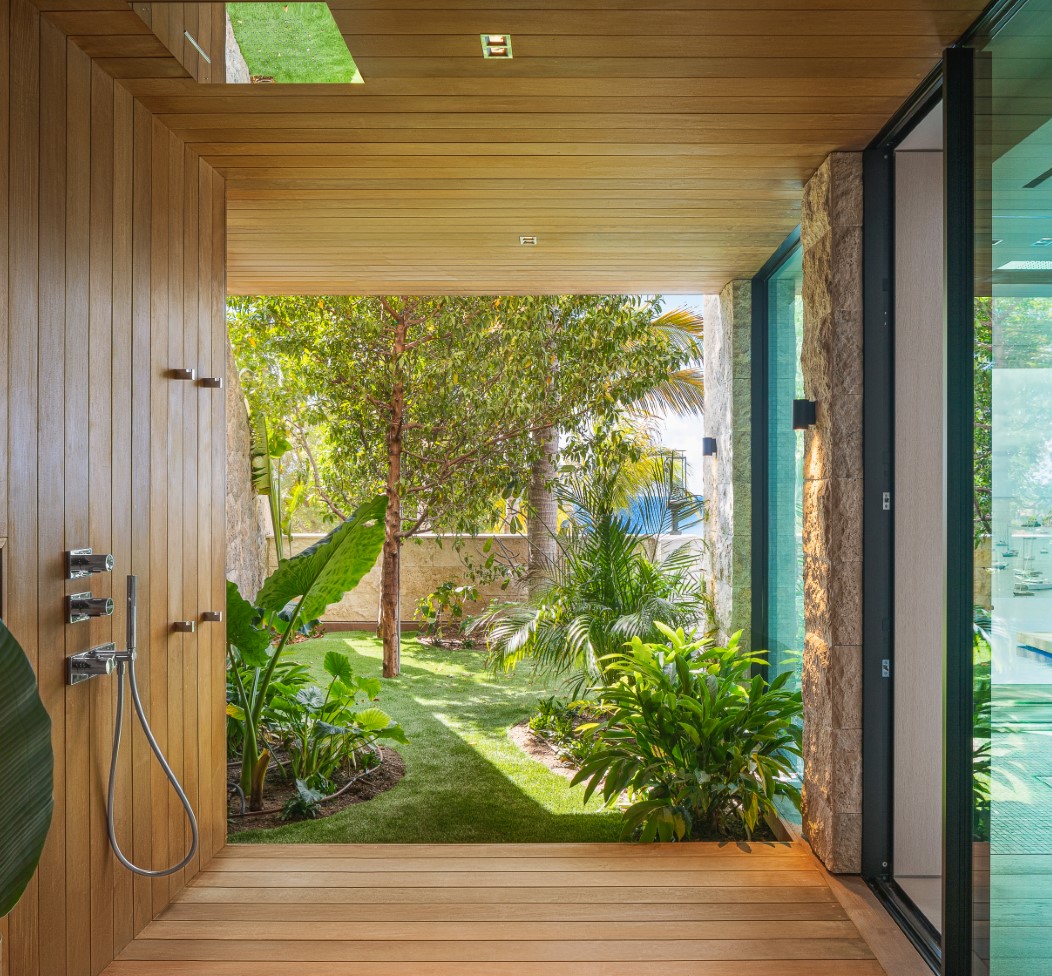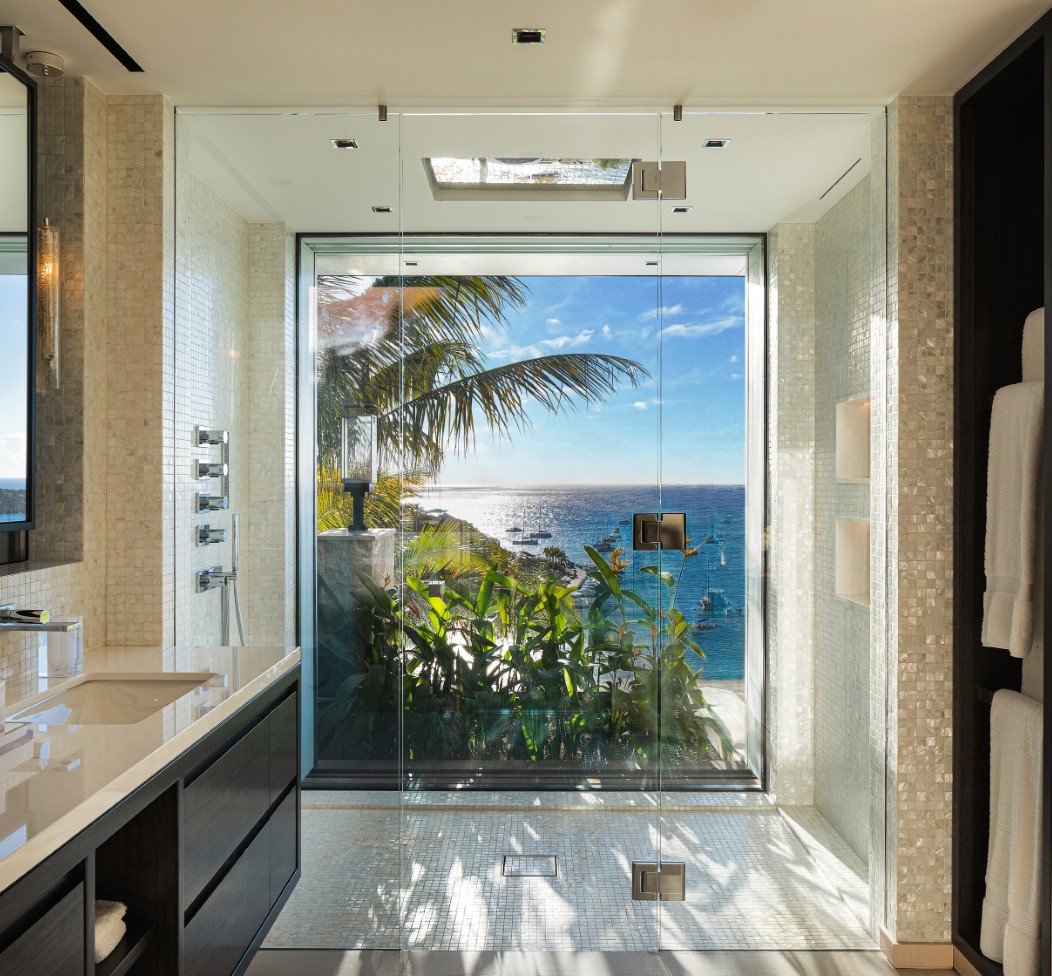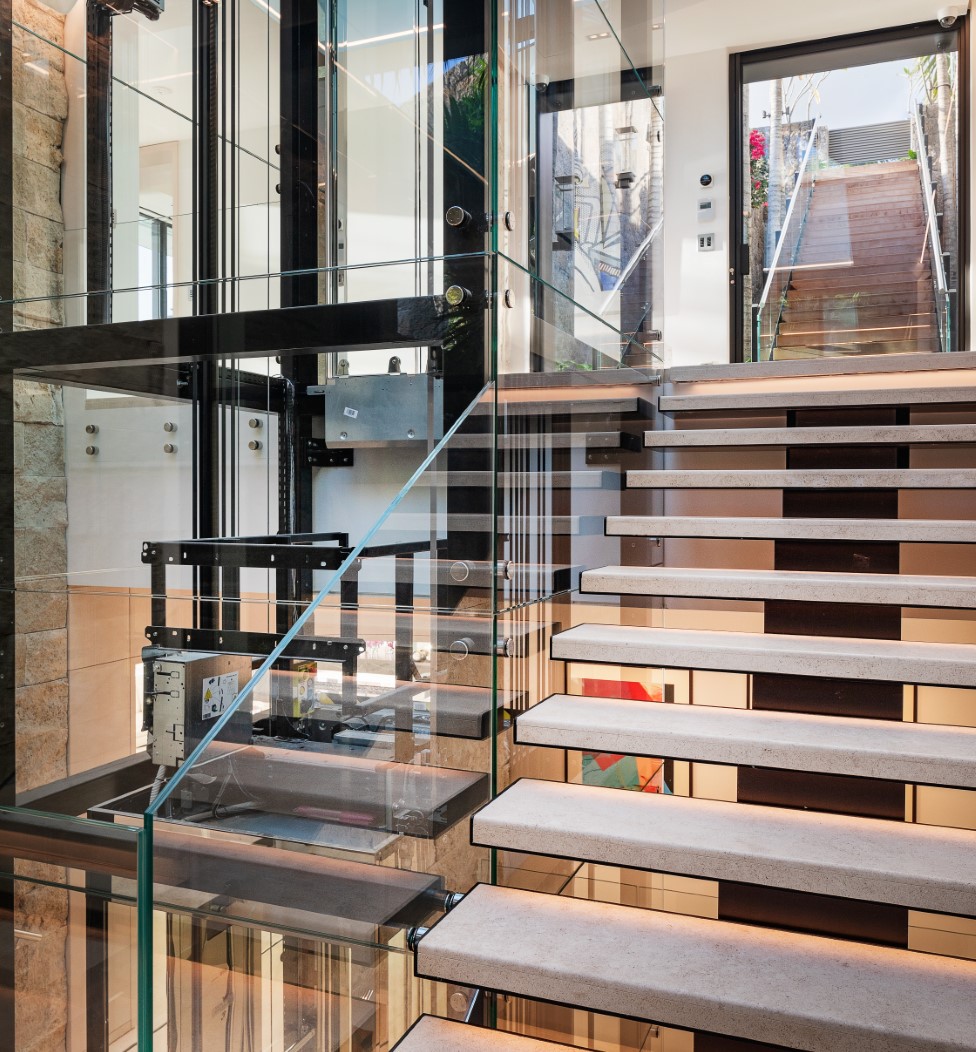 Design
Like St. Barths itself, Embrace is a marriage of architectural and design influences with subtle nods to island living. A Swedish-style roof, local stone exterior and floor-to-ceiling windows create the framework for a striking interior with exotic woods and materials, custom lighting and furniture and commissioned artwork. The property also features the island's only four-story glass elevator, which overlooks a waterfall, as well as a topiary garden and living wall.
Spaces
The villa features an array of shared spaces for guests to gather, dine or relax. The Great Room and Family Room feature handmade silk rugs and custom Italian sofas ideal for an afternoon of reading, movie night or late-night conversation.
In the Games Room, Vladimir Kagan armchairs are perfect for passing hours exploring the custom leather T.T.Trunks games table featuring chess, poker, Scrabble®, dominos, Monopoly® and more. Set on the top floor, the study commands attention with custom furnishings including an impressive black nut-wood and leather desk. DINING
Whether it's lattes and acai bowls at sunrise or chilled cava and grilled scallops on a star-filled night, food at Embrace is on demand—whatever you want, whenever you want it. Our in-house chef is on hand to prepare whatever you desire and translates every request into creative, beautifully presented dishes that pair perfectly with bottles from our extensive wine cellar. Food and beverages can be enjoyed alfresco or in the main dining area featuring Casa Fendi bar stools and a custom, marina-inspired table from Italy's Barbarini & Gunnell. We can also arrange a picnic lunch or bonfire dinner on any of St. Barths' 20 white-sand beaches.
Amenities
Spanning four levels, Embrace pushes the boundaries of modern luxury with two infinity edge pools, an outdoor massage suite, an extensive wine cellar, a 15-car underground garage and a private drive-up entrance for the master suite.
Services
Your Embrace experience is overseen by our in-house butler, available 24/7 to fulfill any request, and supported by a private chef and daily housekeeping service. A state-of-the-art security system allows you to truly relax. Each day begins with a delicious continental breakfast and newspaper delivery.